How what you eat effects your genes?
Did you know it is not just what you eat and how it effects you, but what you eat will effect your children, your childrens children and your childrens childrens children?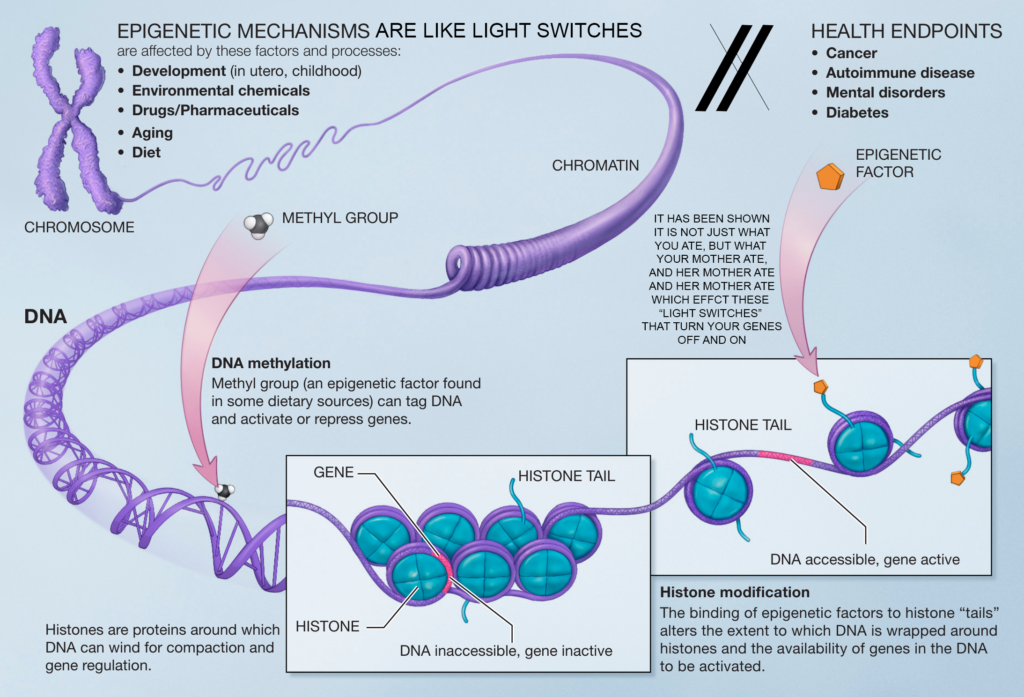 Definitions
The term epigenetics in its contemporary usage emerged in the 1990s, but for some years has been used with somewhat variable meanings. A consensus definition of the concept of epigenetic trait as a "stably heritable phenotype resulting from changes in a chromosome without alterations in the DNA sequence" was formulated at a Cold Spring Harbor meeting in 2008, although alternate definitions that include non-heritable traits are still being used.
The term epigenesis has a generic meaning of "extra growth", and has been used in English since the 17th century.
Waddington's canalization, 1940s
From the generic meaning, and the associated adjective epigenetic, British embryologist C. H. Waddington coined the term epigenetics in 1942 as pertaining to epigenesis, in parallel to Valentin Haecker's 'phenogenetics' (Phänogenetik).  Epigenesis in the context of the biology of that period referred to the differentiation of cells from their initial totipotent state during embryonic development.
When Waddington coined the term, the physical nature of genes and their role in heredity was not known. He used it instead as a conceptual model of how genetic components might interact with their surroundings to produce a phenotype; he used the phrase "epigenetic landscape" as a metaphor for biological development. Waddington held that cell fates were established during development in a process he called canalization much as a marble rolls down to the point of lowest local elevation. Waddington suggested visualizing increasing irreversibility of cell type differentiation as ridges rising between the valleys where the marbles (analogous to cells) are travelling.
In recent times, Waddington's notion of the epigenetic landscape has been rigorously formalized in the context of the systems dynamics state approach to the study of cell-fate. Cell-fate determination is predicted to exhibit certain dynamics, such as attractor-convergence (the attractor can be an equilibrium point, limit cycle or strange attractor) or oscillatory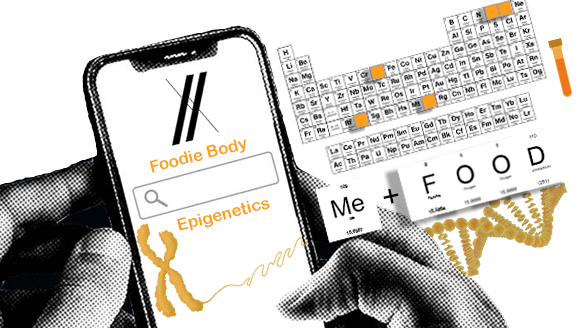 Recent Developments
Robin Holliday defined in 1990 epigenetics as "the study of the mechanisms of temporal and spatial control of gene activity during the development of complex organisms." Thus, in its broadest sense, epigenetic can be used to describe anything other than DNA sequence that influences the development of an organism.
More recent usage of the word in biology follows stricter definitions. It is, as defined by Arthur Riggs and colleagues, "the study of mitotically and/or meiotically heritable changes in gene function that cannot be explained by changes in DNA sequence."
DNA damage
DNA damage can also cause epigenetic changes. DNA damage is very frequent, occurring on average about 60,000 times a day per cell of the human body (see DNA damage (naturally occurring)). These damages are largely repaired, but at the site of a DNA repair, epigenetic changes can remain. In particular, a double strand break in DNA can initiate unprogrammed epigenetic gene silencing both by causing DNA methylation as well as by promoting silencing types of histone modifications (chromatin remodeling – see next section). In addition, the enzyme Parp1 (poly(ADP)-ribose polymerase) and its product poly(ADP)-ribose (PAR) accumulate at sites of DNA damage as part of a repair process. This accumulation, in turn, directs recruitment and activation of the chromatin remodeling protein ALC1 that can cause nucleosome remodeling. Nucleosome remodeling has been found to cause, for instance, epigenetic silencing of DNA repair gene MLH1. DNA damaging chemicals, such as benzene, hydroquinone, styrene, carbon tetrachloride and trichloroethylene, cause considerable hypomethylation of DNA, some through the activation of oxidative stress pathways.
Foods are known to alter the epigenetics of rats on different diets. Some food components epigenetically increase the levels of DNA repair enzymes such as MGMT and MLH1 and p53. Other food components can reduce DNA damage, such as soy isoflavones. In one study, markers for oxidative stress, such as modified nucleotides that can result from DNA damage, were decreased by a 3-week diet supplemented with soy. A decrease in oxidative DNA damage was also observed 2 h after consumption of anthocyanin-rich bilberry (Vaccinium myrtillius L.) pomace extract
Customized Solutions for your body and chemistry
Just as epigenetics can cause issues such as metabolic syndrome, cancer, heart disease, mental disorders, auto-immune disease and diabetes, food can also ameliorate these conditions. To learn more on if the first steps of a plant based whole foods plan are right for you create a free account and review the 30 day Foodie Body plan.  There is no charge to participate and the search engine will customize your food results to help improve your independently verified labs.
Reverse Epigenetic triggered Disease Through Diet