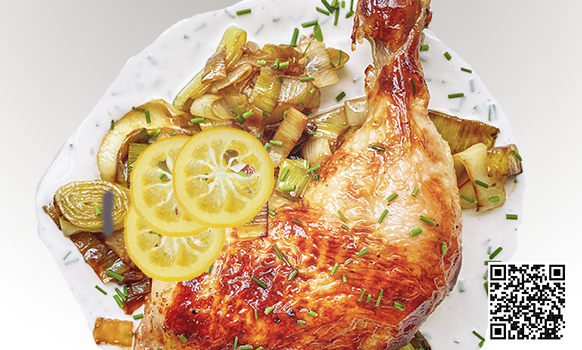 Ingredients
4-6 SERVINGS
4  chicken leg quarters (about 2½ lb.)
1  Tbsp. kosher salt, plus more
Freshly ground black pepper
1  lemon
2  cups buttermilk, divided
1  Tbsp. plus 1 tsp. toasted sesame oil
½  cup plain whole-milk Greek yogurt or sour cream
Hot sauce (for seasoning)
3  Tbsp. extra-virgin olive oil
6  medium leeks, white and pale green parts only, sliced into ½"-thick rounds
A small handful of chives, thinly sliced
Preparation
Step 1
Arrange chicken legs in a large baking dish or pie plate and season with 1 Tbsp. salt and a very generous amount of pepper, turning to get both sides. Let sit 15 minutes.
Step 2
Finely grate lemon zest directly over chicken and turn to coat; set lemon aside for making the dressing. Add 1½ cups buttermilk and 1 Tbsp. sesame oil and turn again to coat. Cover and chill at least 3 hours and up to 12 hours, turning occasionally if possible (don't get up in the middle of the night or anything).
Step 3
Meanwhile, whisk yogurt, remaining ½ cup buttermilk, and remaining 1 tsp. sesame oil in a small bowl to combine. Cut reserved lemon in half and squeeze in the juice (you should get about 2 Tbsp.). Season with salt and pepper and a few dashes of hot sauce and whisk again to combine. Cover dressing and chill while the chicken marinates.
Step 4
Preheat oven to 475°. Let chicken sit out at room temperature while the oven comes up to temperature. Line a rimmed baking sheet with parchment paper or foil (to make cleanup easier) and set a wire rack inside. Remove chicken from marinade, letting excess drip off, and place, skin side up, on prepared rack; discard marinade. Roast chicken until skin is a deep brown and crisp and a thermometer inserted to thickest part of thigh registers 165°, 25–30 minutes.
Step 5
Meanwhile, heat olive oil in a large skillet over medium-high. Add leeks and toss to coat. Season with salt and cook, tossing occasionally, until dark brown around the edges but not completely softened, 6–8 minutes. If the pan looks dry or scorched toward the end of cooking, add a splash of water to get things moving again.
Step 6
Stir half of chives into dressing, then spread dressing onto a platter or 4 plates. Spoon leek mixture over and top with chicken. Scatter remaining chives over.
How to Fabricate a chicken